Toryburch.com Products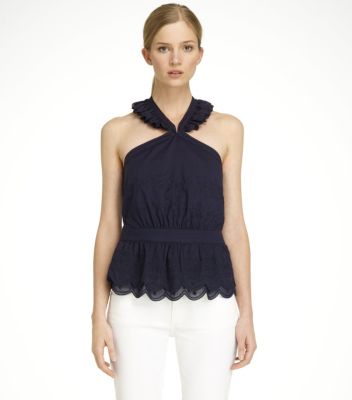 SKU: 8542794319
In Stock at Toryburch.com
Directly from Tory Burch - Delicate with the allure of a halter, the Adela Shell is an outfit-making choice in lightweight cotton voile. Subtly embroidered with a tonal Tory logo and with a scalloped ruffled hem, the top has an elastic band inserted into the back bodice to guarantee a flattering fit. Looks great with slim pants or a pencil skirt. Tory Burch Official Site.
Get extra discounts for this Adela Blouse with one of the following coupon codes
More Products Like This...
In stock at: toryburch.com
Directly from Tory Burch - Designed in celebration of our Madison Avenue flagship boutique in... More
Posted on Feb 10, 2013
In stock at: toryburch.com
Directly from Tory Burch - It's official: colored denim is here to stay and our Ivy Super Skinny... More
Posted on Feb 04, 2013
In stock at: toryburch.com
Directly from Tory Burch - Designed in celebration of our Madison Avenue flagship boutique in... More
Posted on Feb 03, 2013